HG has hired a digital employee, one who will go to work every night updating hundreds of insurance cases. This way its human colleagues don't have to fry their brains on small, repetitive tasks. And rather excel in their career.
Master painter Ib Jensen (57) from painting firm Sander & Dam in Copenhagen sits in the office building he shares with seven other painting firms in the Gladsaxe district. Surrounded by old industrial buildings, transformers and car dealerships, this is the headquarters of his painting firm. Until last year, his painting firm was part of DSJ Painters, a group of local painting firms who had merged together. They were bigger than most others, but on a greater scale, they were still a small fish.
– Normally, I would have said yes to only a part of the job.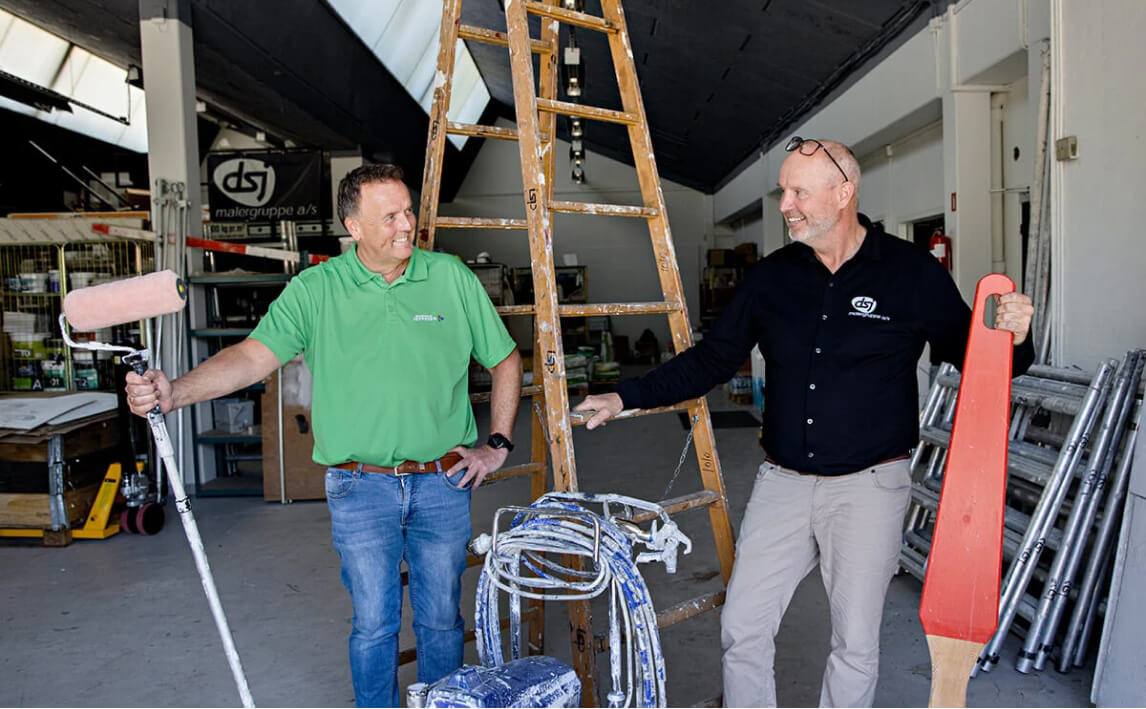 In 2022 that changed when the Norwegian group Håndverksgruppen invited both Ib's firm and three other, renowned Danish painting firms, to join them. Now, they were suddenly a part of one of the leading surface treatment groups in the Nordics. That meant new possibilities.

Earlier this year, Ib Jensen was indeed approached by a nationwide gym branch. Denmark's biggest fitness chain Fitness World had been acquired by an English firm, and they were looking into a massive rebranding of all of their gyms. That meant they needed skilled painters to transform 165 Fitness World gyms into about 150 PureGyms in Denmark.

- Normally I would have said yes to paint the gyms in Copenhagen and the surrounding areas. But there's no way I would have said yes to be responsible for painting all the gyms. That would have been too big an assignment, says Ib Jensen.

But the fact that Ib's firm was now a part of something bigger — a group spanning not just Denmark, but also the neighboring countries of Norway and Sweden — gave him another option.
From painting ships to being able to work all over Denmark
In 1960, Lars Jeppesen's father, Jørgen Jeppesen, established Malerfirmaet Jeppesen. He concentrated on painting ships for the local fishing industry in Hirtshals, on the northernmost tip of Denmark. Still today, the fishing industry has significant importance for the small town. Every day, the town's 5500 inhabitants are joined by about 2500 fishing industry workers clocking in for the day's work.

In 1990, the company underwent a generational change. Jørgen Jeppesens son Lars Jeppesen and his daughter Mette Møgelmose "picked up the paint brush". In the following years, they expanded the reach of the local company, acquiring several painting firms in the Northern part of Denmark.

Today Malerfirmaet Jeppesen employs more than 80 painters — about half of them women — on everything from industrial painting assignments, floors, buildings, after fires and other commercial paint jobs, with numerous specialist painting skills, like environmentally friendly paint, hygiene paint and nanotechnology paint solutions.

- In 2022 we said yes to become a part of Håndverksgruppen, Lars Jeppesen says.

After 32 years of running everything with his sister Mette, Lars now joined a big group of diversified craftsmen in Håndverksgruppen. And one day he received a phone call from Copenhagen.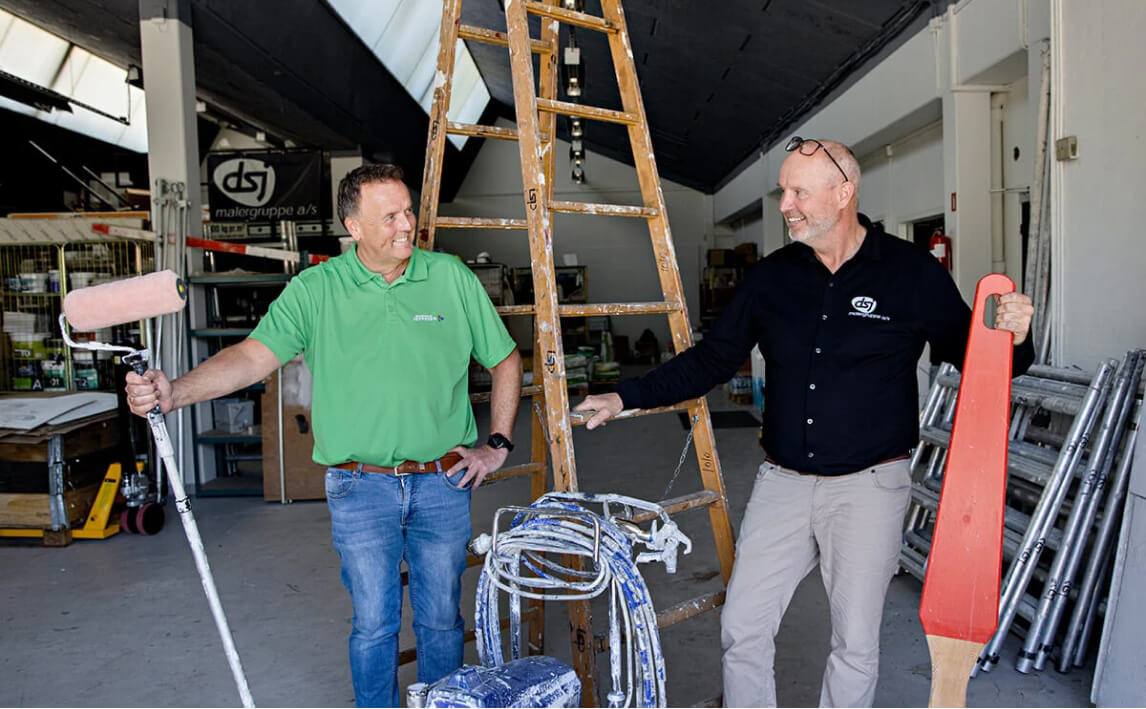 More muscles mean more cooperation
The gym paint job started immediately after the different painters agreed to pull it off. Paint brushes were dipped in fresh paint all over Denmark, literally being held in the hands of painters from companies who previously would not be cooperating. At all. They would have been competitors.

The gyms are due at the end of June. And they will be done in time, both Ib and Lars say with conviction.

- Oh yes, Ib adds. – Being part of Håndverksgruppen undoubtedly means we're all able to agree to assignments we would not say yes to earlier. In Denmark no painting firm has had a nationwide representation. Being part of Håndverksgruppen, we can make one agreement that is valid throughout the country.

- And even though Ib and I did not know each other beforehand, Lars says, - We know that the companies who are invited to join Håndverksgruppen have met several demands when it comes to solidity. That's reassuring.

- When I called Lars, says Ib, - I knew that he was a painter just like me. We come from the same background. Earlier, if my company was given a job in another part of Denmark, I might be able to look through the Yellow Pages and call some painter in that region. If I was lucky, they'd turn out to do a decent job. Now, I don't have to hope. I know that when I call, I call someone who does business properly.
"Being part of Håndverksgruppen undoubtedly means we're all able to agree to assignments we would not say yes to earlier."
– IB JENSEN, MASTER PAINTER
More muscles mean more cooperation
As Lars says: If he's invited to bid on an assignment in Copenhagen, he can now contact for example Ib—who knows the ups and downs of the area—and get a second opinion as to whether the offer is any good, or if Lars' pricing idea fits the market.

- I wouldn't have done that earlier. Maybe I could have asked around in my network, after all, Denmark is a small country. With us being part of the same group, it means I can get an honest, fair opinion from colleagues in other parts of the country. That's really valuable.