OUR CEO'S TAKE ON 2022
Let's talk about togetherness

2022 was a challenging year on many accounts. At Håndverksgruppen we faced unprecedented cost increases. But despite it all, we managed to deliver strong results both organically and through acquisitions — proving our resilience.
I'll tell you how we did it.

Over the course of last year, I had the pleasure of visiting many of our local companies across Norway, Sweden and our newest country Denmark. Meeting their employees, getting to know them and witnessing their impressive work made me proud. It made me appreciate the force our craft companies represent combined.

Admittedly, I may have been too optimistic about our profitability in last year's annual report, as we experienced significant increases in both commodity prices and subcontractor costs. This impacted our EBITDA margin by negatively approximately 0,7 percentage points.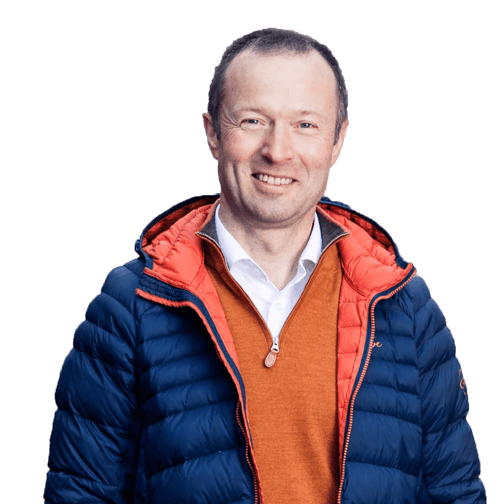 35
new companies joined HG in 2022.
Growth in the Nordics
In December of 2022 we expanded our reach to Denmark. With a market size roughly on par with the Norwegian market, we see a significant potential in Denmark — not least due to the fact that we are also a first mover within the industry in Denmark.

Our exciting expansion to Denmark started with welcoming 13 top-notch painting companies, with combined revenues of MNOK 480. We knew having locations in Copenhagen, Aarhus and Hirtshals and a total of 330 employees, would be a game-changer for us.

It was awe-inspiring for me to witness how quickly these companies began collaborating on customer contracts and public tenders, proving that our new colleagues had a positive impact on our existing businesses — almost immediately.

We also added 14 new companies in Sweden and eight in Norway across various disciplines and geographies. To support our significant increase in the number of companies and revenues in Sweden, we established two regions — West and East — and ramped up the country organization by hiring a Sweden COO and CFO to sustain our growth strategy.

And we're not done. We've only just begun.
The value of combining forces
Our results tell a tale not only of numbers, but a tale of togetherness. We've experienced that we are attractive to other companies, but more importantly: We believe we make a great home for them too!

In fact, by the end of 2022, all our companies in average had delivered a 38 percent increase in EBITDA since joining Håndverksgruppen. That means we provide real growth for the local companies who have already come on board.

In October of last year we asked the original founders and shareholders to spill the beans on their best reasons to join, and the verdict was close to unanimous: The network and best practice sharing are hands down the most valuable elements of being a part of Håndverksgruppen.

And my personal favorite from the survey: 98 percent of previous business owners said that they would recommend joining us to someone close to them. That pretty much says it all.

Thus, it should come as no surprise that at the Håndverksgruppen Academy, best practices continue to be a top priority. In 2022, we trained 342 employees across all disciplines and levels, and we aim to educate another 700 employees in 2023.
We're ready to take on the future
Although we anticipate uncertain market conditions and potential challenges to overcome by 2025, I am confident in the strength of our diversified group of local winners. Why? Together, we can leverage each other's knowledge and benefit from local market deviations, enabling us to navigate uncertain waters.

In just two short years since our inception as a group in 2020, we have achieved remarkable growth, both organically and through the addition of new local companies, adding up to BNOK 2 in revenues per year. Not to mention, our successful entry into Sweden and Denmark.

With our proven track record of welcoming new companies into Håndverksgruppen, I believe that doubling our revenues by the end of 2025 is well within our reach. I am respectfully confident that together we'll be able to increase our EBITDA significantly in monetary value within the same time frame, operating in a more stable rehab market and backed by our local companies' impressive adaptability. In other words: The future looks bright. And I am excited that we're leading the way.
98 percent of previous business owners said they'd recommend joining us to someone close to them. That pretty much says it all.

Øyvind Emblem
CEO, Håndverksgruppen
Sustainability: From vision to action
Small changes have a big impact. That's why at Håndverksgruppen sustainability has been on top of our minds since our inception as a group. And we mean business: We endeavor to transform our industry.

How, you ask?

We are enabling sustainability for all our employees. We are committed to driving profitability and growth while prioritizing the safety of our workers. We are fostering a culture of safety at the individual level. We're also dedicated to caring for the environment we operate in.

By the end of 2022, 50 percent of our companies were certified in ISO 14001 or Eco-Lighthouse. We plan to certify the remaining 50 percent in 2023.

At Håndverksgruppen, our employees matter the most. That's why we make it a top priority to ensure their well-being, both in and out of the workplace. Our commitment to their satisfaction is reflected in our monthly monitoring of the employee net promoter score (eNPS). I am thrilled to see that our efforts are paying off, with our eNPS more than doubling from 20 percent in 2021 to an impressive 46 percent in 2022!

As we turn to 2023, I am excited to continue building on this momentum with our ESG plans. We recognise the importance of environmental, social and governance (ESG) practices in today's world, which is why we are putting action behind the words. Our initiatives include quarterly reporting on emissions, setting science-based targets for our two most significant areas, and developing sustainable renovation methods as part of our sustainable solutions offerings.

In summary, I'm proud of what Håndverksgruppen accomplished in 2022. Our business model, focus on best practices, and commitment to our people will undoubtedly continue to drive us forward. I can hardly wait to see what we achieve in 2023 — and beyond!
Øyvind Emblem
CEO, Håndverksgruppen